Amtrak Coast Starlight
Below you will find links to extensive information, travelogues and photos related to the Amtrak Coast Starlight. Since the Amtrak Coast Starlight is one of the three Amtrak long distance trains that originates near where TrainWeb.com had its home office (Fullerton, California) for more than ten years, you will probably find more travelogues, photos, and other information about the Amtrak Coast Starlight on TrainWeb.com than for any other Amtrak route. Below are links not only to TrainWeb's pages, but links to Amtrak Coast Starlight related pages on other websites including on Amtrak's own website.
Note: Amtrak® is a registered trademark of the National Railroad Passenger Corporation. This is an Amtrak® fan site. Use of any trademarks™ or registered® trademarks on this web site does not imply any affiliation with or endorsement by the National Railroad Passenger Corporation.
The staff of TrainWeb and volunteers to the American Passenger Rail Heritage Foundation have been posting rail travelogues, photos and other information related to Amtrak to these APRHF Train Web Sites since 1996. You should always check with Amtrak for the latest schedules, services, equipment, etc. Information posted on the APRHF Train Web sites might not always be up to date, especially from postings that may be from several years ago.
Click Here for the Current Location of the Amtrak Coast Starlight
(See boxes labeled "11" [south] and "14" [north])
---
The coaststarlight.com domain name is available for purchase. Click here for more info or to make an offer. The amount listed is the "BUY NOW" price. Please feel free to submit a lower offer for us to consider. Purchase of the domain name does not include contents of the website.
---
Click on each photo below for the story and photos:
| | |
| --- | --- |
| | Sep 13-23, 2021 - Amtrak Coast Starlight and Empire Builder Journey to Glacier Haven Inn, Motel, RV Park & Cafe and Izaak Walton Inn in Essex, Montana: Photos & Text by Carl Morrison. including stops in Seattle, Washington; Essex, Montana; and Portland, Oregon. Don and I planned this trip for about a year. We wanted to return to the Izaak Walton Inn, at Essex, Montana, on the Empire Builder Route... Read More>> Slideshow>> |
---
Coast Starlight from Los Angeles to Seattle, WA and back.
A Long Distance Overnight Train Trip
Staying Several Nights In A Nice Hotel
In A Leading City's Downtown
Report & Photos by Robin Bowers

Chapter 1

Wed Nov 13, 2019, Our First Steps. Report & Photos by Robin Bowers. Our day started not long after sunrise (the crack of dawn) and that found us packing the last of the luggage and making sure we were on schedule to be at the Santa Ana train station. At Santa Ana, we would board MetroLink # 685 bound for... Read More>>
Chapter 3

Day Nov 15, 2019, Sunrise in Seattle.. Report & Photos by Robin Bowers. "Portland in twenty minutes" was the shout that aroused me from a deep sleep. My goodness, it is still dark out but we knew the reason for this early call. We were to gather our belongings, leave the train, walk to and into... Read More>>
Chapter 4

Day Nov 16, 2019, Celebrating the BIG day in Seattle. Report & Photos by Robin Bowers. We both spent a restful night, our first in a not moving bed or seat since Tuesday night, waking wide eyed and bushy tailed. The morning was spent easy and slow, getting ready for our lunch with my good friends and... Read More>>
Chapter 7

Day Nov 19, 2019, Coming to a end of a journey. Report & Photos by Robin Bowers. After a restful night in room C on the southbound Coast Starlight, we awoke to start our day in Sacramento, CA our third capital city stop on Coast Starlight. One of the surprises traveling at night is where you will... Read More>>
---
| | |
| --- | --- |
| | Jan 4-5, 2017 - Amtrak Coast Starglight Los Angeles, California, to Portland, Oregon: Report & Photos by Chris Guenzler This Coast Starlight had a consist of engines 13 and 510, baggage 61066, Transition 39021, Sleepers 32091 Minnesota, 32091 New Hampshire, 32097, Parlor Car 39975 Willamette Valley... Read More>> |
| | |
| --- | --- |
| | July 6, 2016 - Amtrak Destination City, Seattle, Washington: Report & Photos by Carl Morrison America by Amtrak, Coast-to-Coast and Border-to-Border, Seattle (SEA), Served by these Amtrak Trains: Amtrak Coast Starlight (Trains #11 & #14) and Amtrak Empire Builder (Trains #7 & #8). Arrival in Seattle on the COAST STARLIGHT from Los Angeles, California about 8:12 pm. We made our first Uber call and were picked up quickly. The Uber app even showed where the driver was located on a real time map. Our destination was Courtyard Seattle Downtown/Pioneer Square... Read More>> |
| | |
| --- | --- |
| | 2006 - Tracking Down Starlight Amtrak Coast Starlight Travelogue & Photos by Joy Basso. A train trip between Fullerton and Oakland, California on the Coast Starlight. We arrived at the Fullerton Train Station in plenty of time to take photos, read the plaques proudly displayed around the station, do some people watching... Read More>> |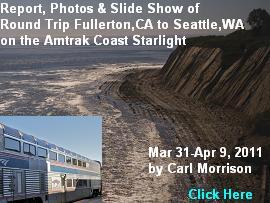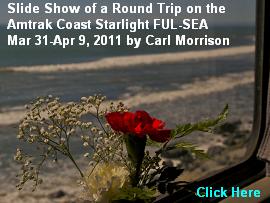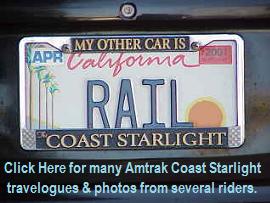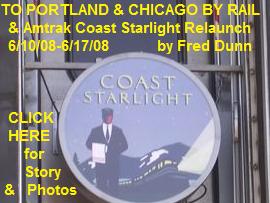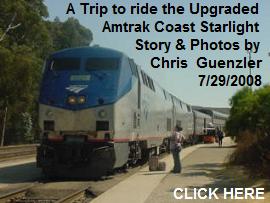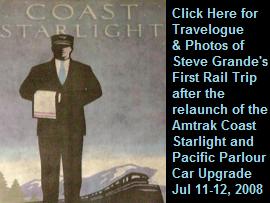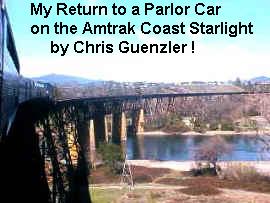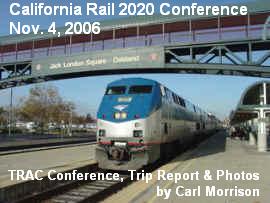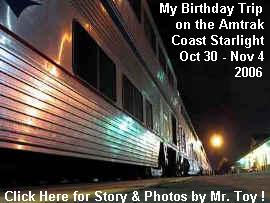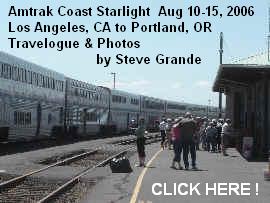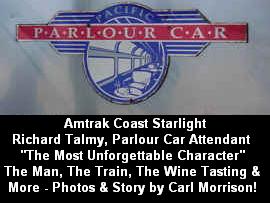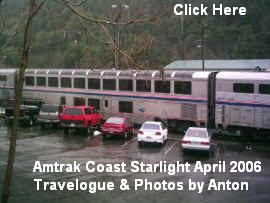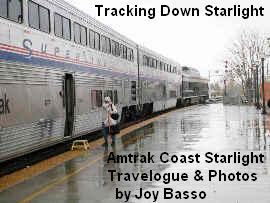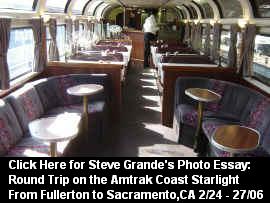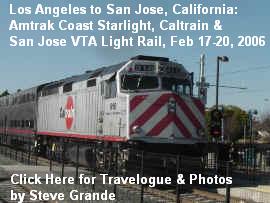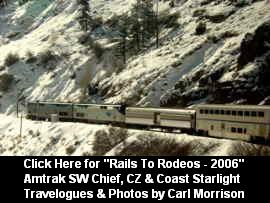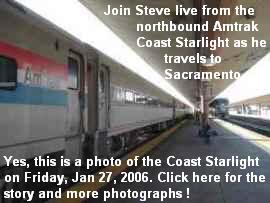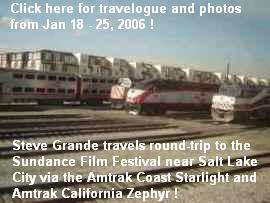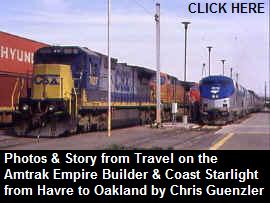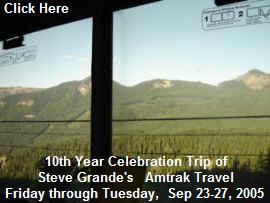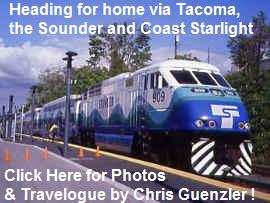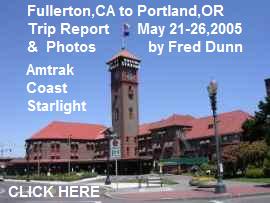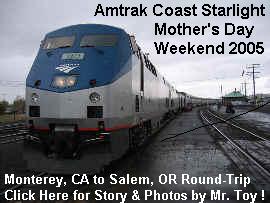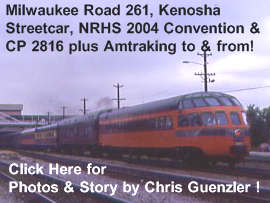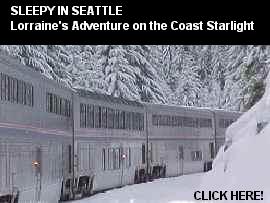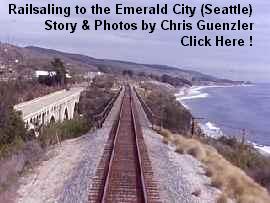 Click on each link below for additional Amtrak Coast Starlight travelogues & photos:
---
Additional
TrainWeb Hosted Websites Featuring Reports & Photos
Of The Amtrak Coast Starlight:
☆☆☆ Steven Reynolds
www.trainweb.US/reynolds



---
Click on each link below for additional Amtrak Coast Starlight information:
Visit our Rail Magazine promotion trading partners:
Click here to add your print rail magazine.